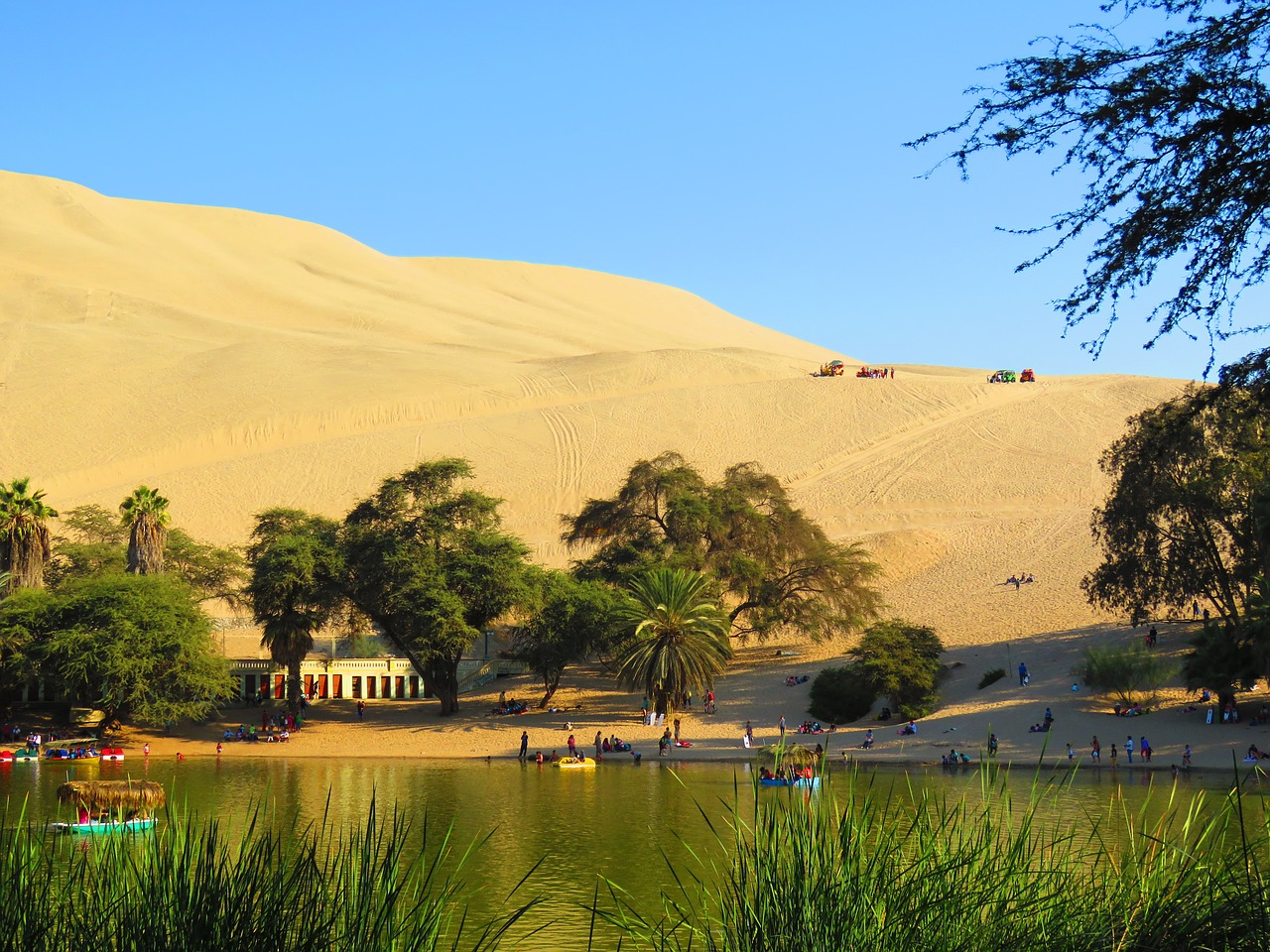 Latin America is famous for its unique nature, stunning landscapes, and local color. All travelers will find there something to their taste and even more. If you are planning a trip, don't miss your chance to visit the most beautiful places in Latin America.
Huacachina, Peru
How does it feel to find an oasis in the middle of the desert? You don't have to go to the Sahara to experience that. Just drive 8 km away from Ica (the city in southern Peru) and you'll get to Huacachina, a perfect desert lagoon surrounded by high sand dunes. Originally, it was a resort for wealthy families from Ica, but now it attracts a lot of tourists and sandboarders.
Machu Picchu, Peru
One of the New 7 Wonders of the World, Machu Picchu is an ancient settlement of the Inca Civilization. It's is located 2,430 meters above sea level between two Andean peaks in the middle of a tropical mountain forest. The settlement consists of different dry-stone buildings ranging from houses and baths to temples and sanctuaries. According to archeologists, it can be called a true city, not just a settlement because it is divided into separate zones: residential, farming, royal, and sacred.
Salar de Uyuni, Bolivia
This vast salt desert is one of the most amazing spectacles in South America. Situated 3,656 meters above sea level it stretches for about 10,582 sq km. Salar de Uyuni formed as the result of evaporation of a prehistoric salt lake. A vast flat surface covered with white salt makes up an unforgettable landscape. It's especially amazing when it rains. A layer of water that covers the white surface reflects the sky providing a stunning sight so that it's hard to tell the line between the land and the sky.
Torres del Paine, Chile
If you want to feel yourself a part of nature and realize how powerful it is, set out for Torres del Paine National Park in Chile. Here, you'll find various natural objects: ancient forests, glaciers, towering granite peaks, lakes, rivers, and fjords. Many tourists come here to see its main attraction Torres del Paine but they leave in awe impressed by that diversity of landscape. The wildlife of the area is rich and amazing: guanacos, foxes, pumas, and different species of birds. This is a popular place among hikers and ecotourists.
Iguazu Falls, Brazil and Argentina
Hardly any waterfall on the planet can compete with Iguazu Falls. Words can't describe its beauty and mightiness. Located within the territory of Argentine, these 275 waterfalls are best viewed from the Brazillian side. There are also helicopter rides available so that you can have an even better view of the mighty falls. Just for comparison: Iguazu Falls is nearly twice as tall and nearly three times as wide as Niagara Falls. The largest water curtain is situated on the Argentinean side and it's called Devil's Throat (Garganta del Diablo).
Check out the service Cheap First Class to find the cheapest first and business class flights to these amazing destinations.