Your bedroom is your sanctuary, a place to escape and unwind at the end of a long, hectic day, so it's worth putting a little extra time and thought into creating the warmest space possible. No matter what size or shape your room, here are a few interior design tips to help you create your perfectly cosy bedroom.
The Right Bedside Table
Your bedside table is most likely the most used piece of furniture in your bedroom, second to the bed of course! You want to make sure it fits in with your cosy aesthetic and works towards your overall goal of warmth. Choose a solid wood table in a dark finish for a classic feel, but bear in mind that mixing and matching furniture will really contribute towards creating a rustic, homely vibe, so if you have a wooden bed, consider a bedside table finished in warm copper or even gold. Mixing dissimilar pieces creates visual texture, which will make any space more inviting and cosier Having a sturdy place to rest your glass of water and favorite book of an evening is key to your ability to relax in your room, so it's worth putting a little extra thought into this often ignored piece.
Soft Lighting
Lighting is incredibly important in the bedroom. Natural sunlight is amazing during the day, but dimmed mood lighting is essential for a good night's sleep. If you have westward-facing windows in your bedroom, black out blinds are an absolute must. A bedside lamp is also a great way to add subtle light at night. Make sure to either choose a light that produces a soft, warm glow or install tinted light bulbs –pick something that will fit with your aesthetic and won't wake your other half up if you want to read during the night! If your budget will stretch and your ceiling lights are suitable, then installing a dimmer switch is a fantastic way to give yourself variable lighting options options: you can have the warm, soft lighting you need at bedtime, but also full lighting during the evening.
Choosing the Right Bed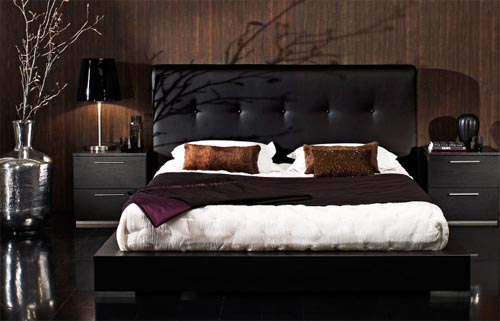 If you only make one change to your bedroom, choosing the right bed is the one to focus on. It's obviously the most-used piece of furniture in your bedroom, and the main piece that can influence how warm the space feels. A leather bed is a great piece to own, and will give your room a cosy chalet-esque feel.